What's in a Name: Polytrauma and How VA Cares for Severely Injured Vets - by Lucille Beck

VA and the U.S. military have used the word polytrauma for nearly ten years to describe the complex, combat-related injuries sustained in the Iraq and Afghanistan wars. Early in these conflicts we realized we would need to establish new systems of service delivery, new models of care, and even new medical terminology to treat these severely wounded Servicemembers and Veterans. The term polytrauma fit the bill perfectly.

The simplest definition for polytrauma would be a medical condition consisting of many (poly) wounds or injuries (trauma). However, as we all know, managing the many aspects of polytrauma is far from simple. The pervasive use of improvised explosive devices ("IEDs") and other such weapons in the current conflicts has caused extensive injuries such as: traumatic brain injuries (TBIs), amputations, burns, spinal cord injuries, complicated fractures, extensive organ damage, generalized anxiety disorder (GAD), posttraumatic stress disorder (PTSD), and other ailments – many of which often occur at the same time. Individually, any one of these conditions can present Servicemembers and Veterans with a steep climb to recovery. When a complex injury or exposure results in two or more of these conditions, then the climb is that much more challenging and often the effects can be life altering.

You can read the entire post by Dr. Beck at VAntage Point. If you want to know more about how VA is treating our wounded warriors and injured Veterans and Servicemembers, or if you simply wish to feel encouraged by seeing the incredible recovery stories of some who gave so much in defense of our Nation, please visit our website, www.polytrauma.va.gov.

VA Events for Breast Cancer Awareness Month

Breast cancer is the second most common cause of cancer deaths in women. Mammograms can detect breast cancer early, and early detection makes a big difference in a woman's chance of surviving. The Women Veterans Health Strategic Health Care Group, in line with national guidelines, encourages all women between ages 50 and 75 to get mammograms every two years. Women ages 40 to 50 and those older than 75 should talk with their providers about the risks and benefits of having mammograms and make a decision based on their individual risk factors. Learn more about what VA is doing for Breast Cancer Awareness Month at the Women Veterans Health Care site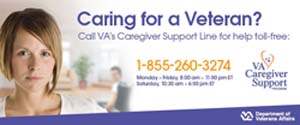 National Caregiver Support Line Opens

The VA Caregiver Support Line opened February 1, 2011 at the Canandaigua VA Medical Center campus. This support line will serve as a resource/referral center for caregivers, Veterans and others seeking caregiver information; provide referrals to local VA Medical Center Caregiver Support Coordinators and VA/community resources; and provide emotional support. It will also be available to respond to inquiries about the new caregiver benefits associated with Public Law 111-163, Caregivers and Veterans Omnibus Health Services Act of 2010.

The National Caregiver Support Line will be open Monday through Friday 8:00 a.m. to 11:00 p.m. and Saturday 10:30 a.m. to 6:00 p.m. Eastern Time. The Toll-Free number is 1-855-260-3274. Additional information can be found on the VA Caregiver web site.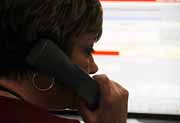 Suicide Prevention: When Friends and Family of Veterans Reach Out
Friends and family are the stalwart support network for deployed troops, but the loving letters and care packages from home may not be enough to bring a Veteran back in the same condition. The mental conditioning of basic training, coupled with the mental trauma of active duty, leaves many Veterans with a burden they have no capacity to share. more..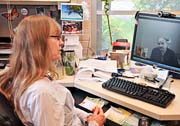 VA Reaching Out to Rural Veterans With Telehealth
Kenneth Winn, 48, suffered a head injury while deployed in Operation Desert Storm. Since then, he's experienced his fair share of challenges in life. He's been looking for a job now for two years.

"I want to work," he said. "But if I tell them (a potential employer) I have a head injury, they don't hire me. It's been hell trying to find a job. I enjoyed being a helicopter mechanic when I was in the Army…I knew that job backwards and forwards." Additional Information.
Additional Stories
"VA Psychologist Recognized for Outstanding Work in Pain Management". Read about these and others on our In the Spotlight page!